Main Content
Announcements
The Organization of American Historians' (OAH) announced that assistant professor of history Max Krochmal, Ph.D., will join 23 historians named in the 2021 class of its Distinguished Lectureship Program. OAH Distinguished Lecturers are a group of 600 historians nationwide committed to educating Americans on all aspects of our national history.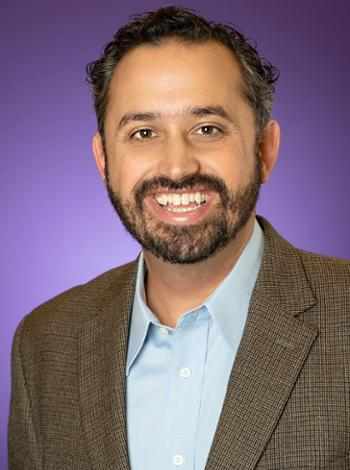 The OAH Distinguished Lectureship Program is one of the organization's most important outreach initiatives, and lecturers agree to donate one free lecture per year over a three-year term. Krochmal joins colleague Steven Woodworth, Ph.D., in this special group.
"I'm honored to be included in this year's cohort of new OAH Distinguished Lecturers! I join an illustrious group of U.S. historians who are uplifting long-neglected voices and writing new, more inclusive, and, above all, accurate narratives of our nation's past," Krochmal said. "I look forward to representing the OAH by sharing our cutting-edge research with the general public," he concluded.
"Congratulations to Dr. Max Krochmal for being appointed as one of 23 historians to the Organization of American Historians Distinguished Lectureship Program," said Sonja, Watson, Ph.D., dean of the AddRan College of Liberal Arts. "His appointment demonstrates his expertise in the fields of African American history and American history," Watson added.
Krochmal is a scholar of civil rights and social movement history, as well as of Chicanx-Latinx, African American and labor movement history. He was previously honored by the OAH in 2016 with the Frederick Jackson Turner Award for his book Blue Texas: The Making of a Multiracial Democratic Coalition in the Civil Rights Era.
In addition to his teacher-scholar work at TCU, Krochmal is active in the Fort Worth community, having served as co-chair of the Fort Worth Independent School District Racial Equity Committee, among other civic engagements.
Johnny Nhan, Ph.D., Associate Dean of Graduate Studies and professor of criminal justice, was named as one of two finalists for the Michael R. Ferrari Award for Distinguished University Service. The Ferrari Award was established by the TCU Board of Trustees to honor the former chancellor and recognize the extraordinary situational leadership accomplishments above job or position expectations of a faculty or staff member.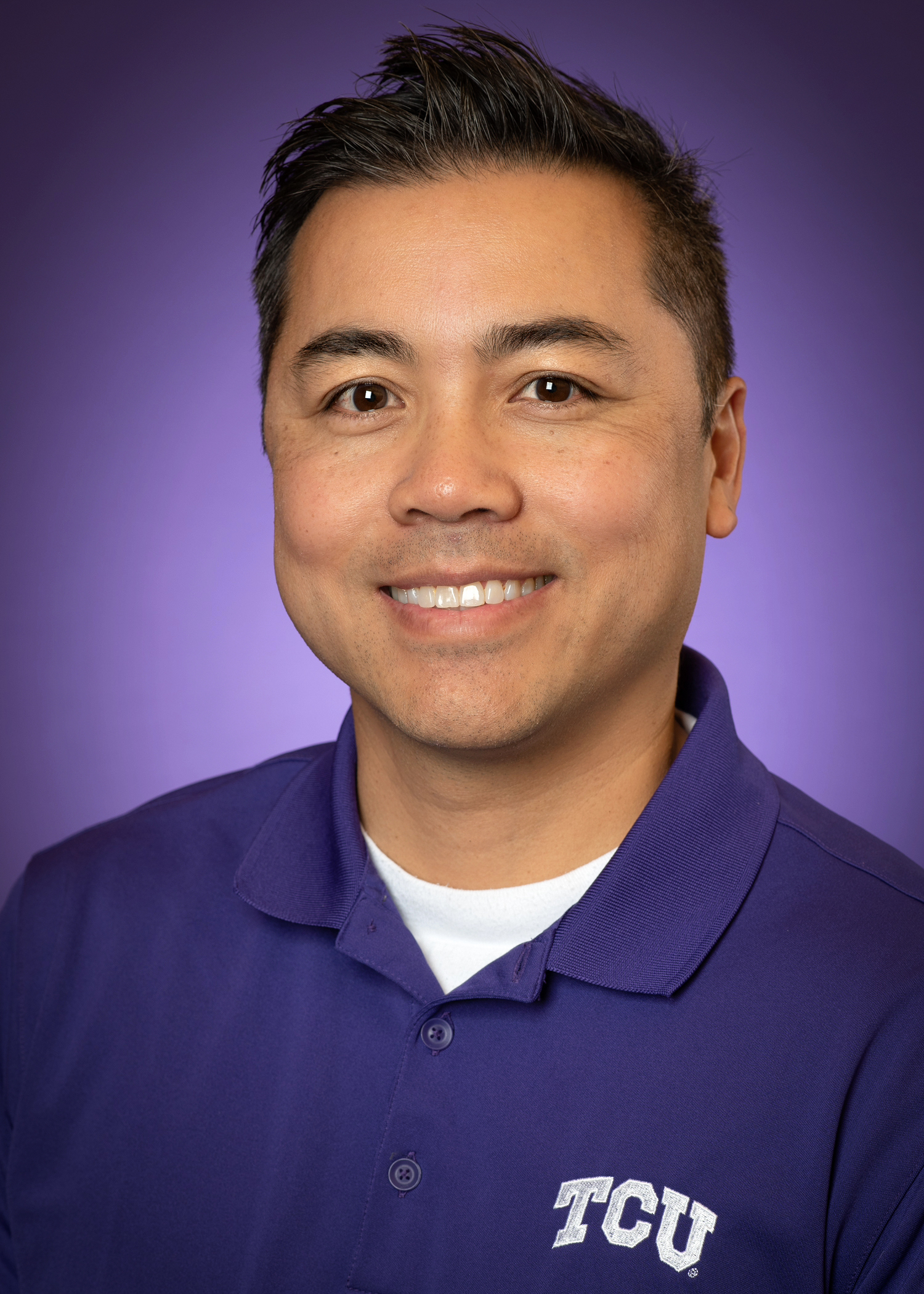 "I am honored to even be considered for the Ferrari Award given all the incredible service and leadership by TCU staff and faculty that occurs daily," Nhan said. "I am thrilled and in disbelief that I am a finalist," he concluded.
Dean Sonja Watson, Ph.D., on Nhan's status as a Ferrari Award finalist: "I am not surprised that Dr. Nhan is a finalist for this prestigious award. He is the preeminent teacher-scholar. Further, he has taken this model to engage the broader Fort Worth community by partnering with the Fort Worth Police Department to enhance leadership in law enforcement. Clearly, Dr. Nhan excels with his engagement with the community and service bridging the artificial divide between academia and the community, which is especially important in the field of criminology and criminal justice."
AddRan has been home to numerous past winners of the Ferrari Award, including:
Rachel Anne Hopper, associate director of Residence Life, is also a finalist for the Ferrari Award. The two will be honored at a luncheon and the winner formally announced by Chancellor Victor J. Boschini, Jr. at the Welcome Home Celebration on August 23.
For more on the Ferrari Award, visit the chancellor's webpage.
The AddRan College of Liberal Arts is pleased to announce a multi-position diversity, equity and inclusion (DEI) hiring initiative in the thematic areas of race, ethnicity, and social justice across humanities and social science disciplines.
The first cluster hire of the initiative includes positions in the Religion, History, Sociology and Anthropology, and Political Science departments.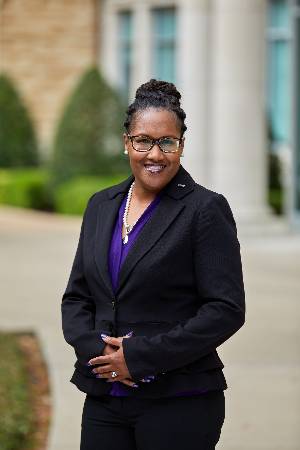 "It is our desire in AddRan to increase the academic pipeline to include a diverse community of scholars, and build a cohort of teacher-scholars across disciplines and areas of specialization interested in teaching and conducting research on race, ethnicity and social justice, thereby enhancing the liberal arts experience of all TCU students," said Dr. Sonja Watson, Dean of the AddRan College of Liberal Arts and professor of Spanish.
The cluster hire serves to:
1) recruit and retain a diverse community of scholars;
2) create a network and support system for a diverse community of scholars;
3) strengthen the college's course offerings in race, ethnicity and social justice that enhances a university-wide core curriculum with a DEI component; and
4) attract students from diverse backgrounds to major and minor in AddRan College of Liberal Arts disciplines.
The following positions are part of the first DEI cluster hire:
Assistant Professor of Sociology
Those interested in applying for these positions can visit jobs.tcu.edu.
The National Archives Foundation selected Kara Dixon Vuic, Ph.D., LCpl. Benjamin W. Schmidt Professor of War, Conflict, and Society in Twentieth-Century America, to be one of two inaugural recipients of the Cokie Roberts Women's History Fellowship. The National Archives Foundation is the nonprofit partner of the National Archives and Records Administration.
The Fellowship is supported by the Cokie Roberts Research Fund for Women's History in honor of Cokie Roberts, the legendary journalist and author who dedicated much of her career to highlighting the role of women in American life. The National Archives Foundation launched the Fund in 2019 after Roberts' passing.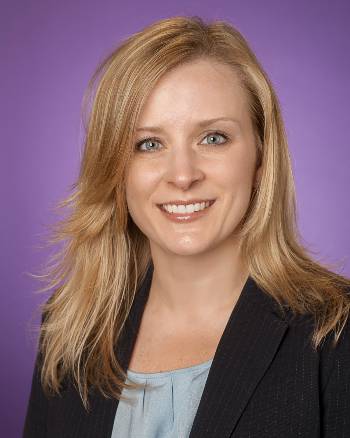 Vuic and her fellow recipient, Dr. Loris Leveen, will receive an award of $7,500 each to support their research at the National Archives.
"I am so honored to have been named a Cokie Roberts Women's History Fellow. This fellowship will allow me to access critical records that I need for my book project Drafting Women, which examines the many debates that Americans have had about conscripting women for military service," Vuic said. "With the help of the fellowship, I'll be able to conduct research at the National Archives, as well as the Franklin D. Roosevelt, Harry S. Truman, and Dwight D. Eisenhower Presidential Libraries."
"Cokie Roberts did so much to educate Americans about women's history, and I am humbled that the fellowship committee thinks my work will continue that important legacy," Vuic concluded.
National Archives Foundation full announcement here.
In recent appearances on CBS 11 and WFAA, James Riddlesperger, Ph.D., discussed the ongoing standoff between Texas' Republican-controlled Legislature and Governor, and Texas House Democrats, who left the state for Washington, DC, over a Republican-sponsored voting and elections bill.
James M. Scott, Ph.D., Herman Brown Chair and professor of political science, has received the International Studies Association's Distinguished Scholar Award.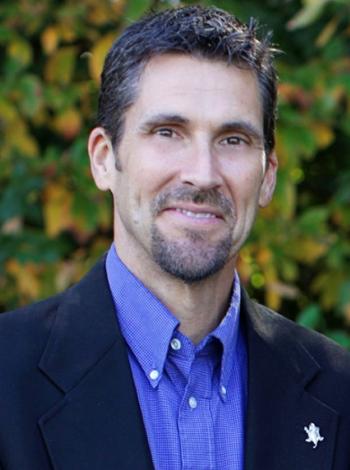 The award was created by the Foreign Policy Analysis Section to honor outstanding scholarship contributions in the area of foreign policy analysis.
Scott is the 32nd recipient of the award and the first winner whose professional career was in undergraduate programs and not principally in Ph.D. institutions. Scott will be honored at a reception at the 2022 annual ISA convention.
"When I learned of my selection for this award I was overwhelmed with gratitude. The Foreign Policy Analysis Section of the International Studies Association has been my professional home and the foundation of just about every good thing that has ever happened to me professionally," Scott said."To receive its highest honor for my efforts as a scholar, teacher, and member of the association is remarkable and particularly meaningful for me. I have been blessed with outstanding mentors, wonderful colleagues and co-authors, and excellent students over my career, and this recognition is truly a reflection of all we have accomplished together."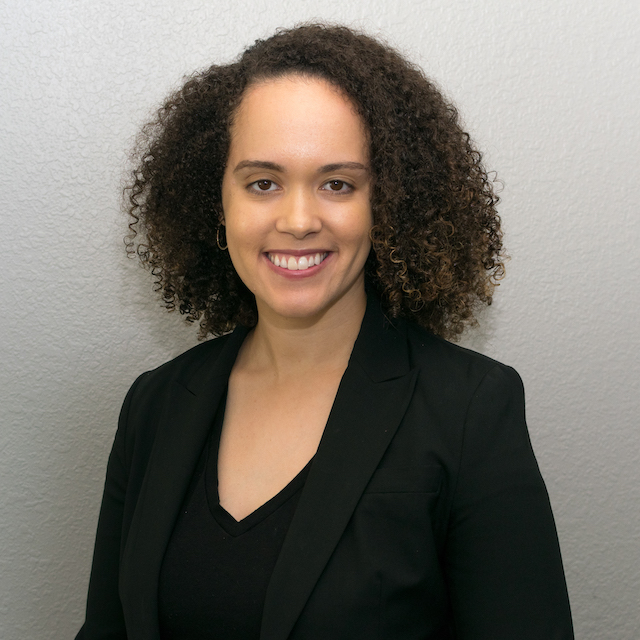 Alicia Smith-Tran, Ph.D., assistant professor of sociology was awarded the Career Enhancement Fellowship by the Institute for Citizens & Scholars.
The Career Enhancement Fellowship, funded by The Andrew W. Mellon Foundation and administered by Citizens & Scholars, seeks to increase the presence of underrepresented junior and other faculty members in the humanities, social sciences and arts by creating career development opportunities for selected Fellows with promising research projects.
"It is an honor to be part of a community of underrepresented faculty who are working on research related to social inequality," Smith-Tran said. "I will primarily be working on a project about the Black middle class and experiences at work. Using qualitative interviews, I aim to describe how Black middle-class workers navigate workplace interactions that are laced with problematic assumptions about race and age."
Sonja Watson, Ph.D., dean of the AddRan College of Liberal Arts, is delighted for the professor's opportunity.
"I am thrilled that Dr. Smith-Tran received this prestigious award," Watson said. "Her research will go a long way to advance conversations about diversity, equity and inclusion in the workplace."
The program provides such Fellows with a six-month sabbatical stipend; a research, travel, or publication stipend; mentoring; and participation in a professional development retreat.
"The fellowship also provides me with the formal opportunity to work with a mentor whose work and career I admire, and I am thrilled that Dr. Jenifer Bratter at Rice University has agreed to serve in this capacity," Smith-Tran said.
The Institute for Citizens & Scholars named 39 new Career Enhancement Fellows for the 2021–22 academic year. They work in such disciplines as African American studies, English, women's and gender studies and sociology and come from a variety of institutions from across the country. Selected from a highly competitive pool of applicants, according to a press release, "Fellows represent unique perspectives within their disciplines and are committed to increasing diversity and inclusion on campus through service and research."
Smith-Tran is already looking beyond her fellowship.
"In addition to this project, I also hope to start laying the groundwork for some other projects surrounding racial inequality in health," she said. "In particular, I plan to focus on how marginalization and racism affect Black women's well-being and illness experiences."
TCU's AddRan College of Liberal Arts presents
The 14th Annual AddRan Distinguished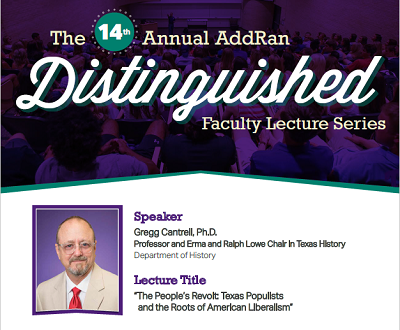 Faculty Lecture Series:
The People's Revolt: Texas Populists and the Roots of American Liberalism
By Gregg Cantrell, Ph.D., Professor and Erma and Ralph Lowe Chair in Texas History
In the public imagination, Texas has long been regarded as a bastion of conservatism. In recent times, that conservatism has morphed into enthusiastic support for Trumpian "populism." In this lecture, Gregg Cantrell explores the historical roots of Texas populism, discovering that not only were the original Lone Star Populists far from Trumpian, but they actually made a signal contribution to the development of American liberalism.
Two faculty from the Department of History landed summer stipends from the National Endowment for the Humanities: Alex Hidalgo, associate professor and director of undergraduate studies, and Kara Dixon Vuic, Benjamin W. Schmidt Professor of War, Conflict and Society in 20th-Century America.
"This is a major accomplishment. The National Endowment for the Humanities Summer Stipends are prestigious awards, said William Meier, associate professor and chair of history. "Dr. Vuic and Dr. Hidalgo are two of just six scholars in the state, and of 92 nationally, who won these grants this year, and their achievements bring national recognition to the Department of History, the AddRan College of Liberal Arts and TCU."
"Mexican Soundscapes of the Colonial Era" is Hidalgo's research leading to a book on the history of sound in colonial Mexico City. Vuic's "Drafting Women" is research for a book on the history of public debates about gender and military conscription in the United States.
"It is work like that of Drs. Vuic and Hidalgo that showcases the incredible work underway at TCU and assists in bolstering our academic profile," said Sonja Watson, dean of the AddRan College of Liberal Arts. "We are extremely proud of their accomplishment."
The NEH grants support a diverse range of humanities projects across the country. The summer stipends are enabling archival research for more than 90 publications.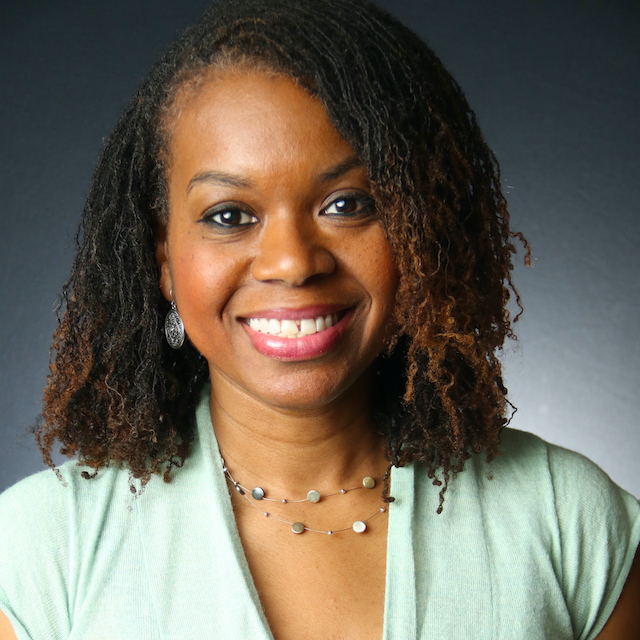 Stacie McCormick, Ph.D., associate professor of English and co-director of African American and Africana studies, has been awarded a prestigious 2021-22 Mellon/American Council of Learned Societies Scholars and Society Fellowship. She will conduct research on "Notes on Creating Livable Futures: Black Motherhood, Medical Inhumanity and Reimagining Care" at The Afiya Center, a reproductive justice organization in Dallas.
"This award means a great deal to me because it gives me the opportunity to connect my scholarship and research to the communities dear to me," McCormick said. "I research, write and teach about Black motherhood and reproductive justice so getting to work with an organization like the Afiya Center, which is doing this work in so many important ways, is a dream realized. The Scholars and Society Fellowship offers a unique opportunity to connect with various publics and gain tools to support graduate students in doing similar work. So, this is just the kind of work I want to be doing."
Funded by a grant from The Andrew W. Mellon Foundation, the Mellon/ACLS Scholars and Society program provides opportunities for faculty who teach and advise doctoral students to engage significant societal questions in their research, serve as ambassadors for humanities scholarship and deepen their support for doctoral curricular innovation on their campuses. The fellowship supports one year of research in residence at a U.S.-based cultural, media, government, policy or community organization as well as provides funding for fellows to develop on-campus and off-campus programming that draws on connections developed during their fellowship year.
Bringing together her work in literary, performance studies and Black feminism, McCormick's interdisciplinary project will focus on Black women's voices regarding their experiences in childbirth and mothering.
"Black maternal mortality rates are still among the highest of any demographic, and my work seeks to shine a light on how Black women are using their creative and cultural production to speak to this dire matter. I also explore how Black women writers and thinkers are opening up paths for new understandings on how to provide more just and equitable care for Black women patients and for all patients," McCormick said.
This research spotlights Black women's voices on issues directly impacting them in the health care system.
"I experienced stillbirth and preterm labor on my journey to become a mother, and there weren't many spaces I could turn to in order to get insight on my own experience. So, it is my hope that my work not only raises up the creative and critical work of Black women on this subject, but also provides comfort and insight for anyone going through something similar and needing perspective," McCormick said.
"I hope to produce compelling community programming in partnership with The Afiya Center and to offer scholarship that is innovative in showing the possibilities for work situated at the intersections of humanities-based work and public scholarship," McCormick added.
James M. Scott, Ph.D., Herman Brown Chair and Professor of Political Science, will be the next director of the Master of Liberal Arts program effective June 1, 2021. Scott will succeed the outgoing director, Darren Middleton, Ph.D., the John F. Weatherly Professor of Religion, who led the MLA program to a successful one, which includes its growth to 120-plus students, its engagement on campus and its 50 new courses over the last five years.
"Thank you, Darren, for your service," said Sonja Watson, Ph.D., dean of the AddRan College of Liberal Arts. "Dr. Scott has been at TCU since 2011 and brings a wealth of administrative experience to the role. Please join me in congratulating Jim!"
Scott's areas of specialization include foreign policy analysis and international relations, with particular emphasis on U.S. foreign policymaking and the domestic sources of foreign policy. He is author or editor of nine books; more than 50 refereed articles and chapters in highly reputable outlets; and over 120 other chapters, review essays, conference papers and other works.
Scott served as department chair for Political Science at the University of Nebraska at Kearney (1999-2003) and Indiana State University (2003-2006) and as department head for Political Science at Oklahoma State University (2006-2011). He has been conference organizer and president of both the Foreign Policy Analysis section of the International Studies Association and the International Studies Association–Midwest, and he has served on several governing committees in each association. He is a two-time winner of the Frank J. Klingberg Award for Best Paper Presented by a Faculty Member at the ISA–Midwest annual meeting.
Since 1996, he has received more than two dozen awards from students and peers for his outstanding teaching and research, including his institution's highest awards for research in 2000 and 2001 and for research mentoring in 2002. He is the recipient of the 2012 Quincy Wright Distinguished Scholar Award and the 2018 Excellence in Teaching and Mentoring Award from the ISA–Midwest and the 2018 and 2019 AddRan College of Liberal Arts Division of Social Sciences Award for Distinguished Achievement as a Creative Teacher and Scholar from TCU.
From 2005 to 2014, he was director of the Democracy, Interdependence and World Politics Summer Research Program, a National Science Foundation Research Experience for Undergraduates, and he has been the coordinator for undergraduate research for TCU's Department of Political Science since 2016.
He was associate editor of Foreign Policy Analysis from 2009-2015, co-editor of Political Research Quarterly from 2015-2018 and is currently lead editor of International Studies Perspectives.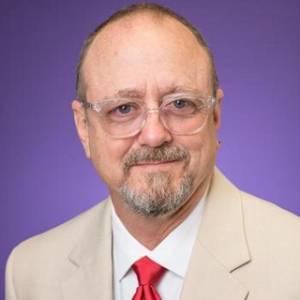 Gregg Cantrell, the Erma and Ralph Lowe Chair in Texas History and director of graduate studies, was recognized for his manuscript, The People's Revolt: Texas Populists and the Roots of American Liberalism. He received the Kate Broocks Bates Award for Historical Research at the recent meeting of the Texas State Historical Association. The Bates Award is given annually for a significant piece of historical research dealing with any phase of Texas history prior to 1900.
Cantrell's work chronicles the establishment of the Texas People's Party and the rise of the related Populist movement in the 1890s, as reported in the latest issues of TCU's Endeavors.
"It was a national movement. But its principal strength was in Texas as well as the Plains states and Mountain West," he told the magazine. "It was really born on the frontier, a place where government at all levels was weak and people often had to take matters into their own hands."
The Kate Broocks Bates Award was established in 1976 in the name of the Daughters of the Republic of Texas by her children, Kate Harding Bates Parker and C. Elisabeth Bates Nisbet. The award honors Bates, a dedicated member of the Daughters of the Republic of Texas who was committed to the study of Texas history.
Our online M.S. in Criminal Justice and Criminology Program was recently ranked #6 in the United States by US News and World Report. The relatively new program has consistently risen in the ranks since its creation in 2014.
The program, which is geared towards working professionals in the field of criminal justice and potential doctoral students, aims to provide students with continuing education that focuses on both theory and practical skills. Students apply analytic skills developed in the courses to examine contemporary criminal justice issues, analyze existing research and inform policy. The goal is simple: to equip each cohort with the skills and competencies to be ground-breaking leaders in their field.
Notably, the program offers classes that are recorded and archived to help students learn at their own convenience and makes continuing education possible for working professionals. A small but dedicated group of expert faculty teach courses that range from Advanced Criminology to Applied Research and Policy. Most importantly, the program prides itself on the personal attention it gives each student from the moment they submit a request for information to the program director, Dr. Kendra Bowen. Like all programs at TCU, students are valued above all else and given the resources, mentorship and opportunities they need to succeed.
Learn more about this top-ranked program by visiting criminaljustice.tcu.edu
Students in our MLA program have unique opportunities to publish, present and research unique topics that span the many disciplines of the liberal arts. Recently, three outstanding students received accolades and publications for their work.
Clare Shaffer ("The Other/La Otra") and Dana McKnight ("The Incredible Hulk: Monster, Man, Hero") recently published their research in the Fall 2020 issue of Confluence, the peer-reviewed journal of the Association of Graduate Liberal Studies Programs. Dana's work originated during her time in Professor Johnny Miles' class: "Superheroes in Global Context". Clare's work was inspired inspired by her time in a class on translation and society with Dr. Kurk Gayle, who plans to retire this month.
Clare Shaffer ("Intersections of Feminist Identity in Poetry and Translation") and Trisha Spence ("Unconventional Fashion for Unconventional Musicians") presented their work at the annual and virtual conference of the Association of Graduate Liberal Studies Programs, October 8-10, 2020. The Association awarded Clare Shaffer their Best Student Presentation Prize. Trisha completed her work while taking a class on music and fashion from Dr. David Buyze.
Congratulations to all of our students and faculty members on their accomplishments!
We are so proud of everything our latest graduates have accomplished.
Dr. Melanie L. Harris, Professor of Religion and Ethics, has been selected as interim Associate Dean of Faculty Diversity, Equity, and Inclusion for the AddRan College of Liberal Arts and School of Interdisciplinary Studies effective immediately. As Associate Dean of Faculty Diversity, Equity, and Inclusion, Dr. Harris will provide leadership and administration for procedures and practices related to faculty diversity and inclusion, recruitment, development and mentoring, retention, and help implement a number of DEI initiatives that promote inclusive excellence.
History professor Gene A. Smith was recently quoted in a New York Times article about Mount Rushmore and its controversial history. Read the full story below.
Texas Christian University has named Sonja S. Watson, Ph.D., its new dean for the AddRan College of Liberal Arts. Watson will work to further the mission of the college and advance the university's Vision in Action: Lead On strategic plan. She will begin her new role at TCU May 29, 2020.
Max Krochmal, associate professor of history and chair of comparative race and ethnic studies, has been awarded a Fulbright fellowship for the spring 2021 semester. Krochmal will serve as the Fulbright-García Robles U.S. Studies Chair at the Universidad de las Américas in Puebla, Mexico, where he will teach two courses on North American multicultural history and politics.