The AddRan Ambassadors Program recently participated in a workshop facilitated by Leadership Fort Worth, a leadership-development program dedicated to educating, empowering and connecting diverse leaders. The workshop – titled "Conflict Transformation for Transformational Leaders" – allowed the Ambassadors to alter their understanding of conflict through open discussions, group activities and conflict practice. By reframing conflict as an opportunity for growth, the Ambassadors gained valuable insight into how they can transform conflict in their personal and professional lives.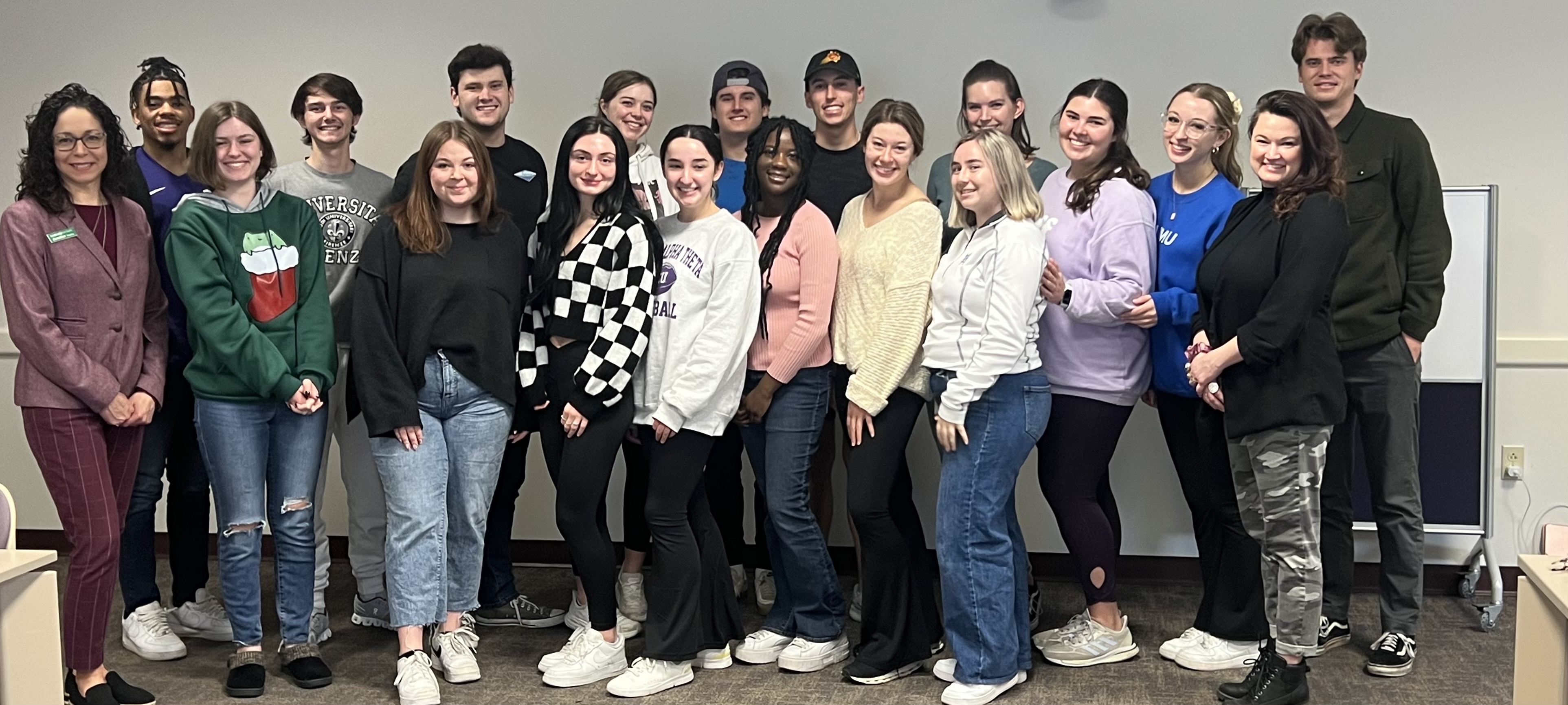 "After the workshop, I see conflict in a different light," said AddRan Ambassador co-director and criminal justice major Elise LeMire. "Conflict is a way to grow and empathize with others, not something that hinders success. I hope to practice solving conflict while serving in the AddRan Ambassador role so that I can be more comfortable when I begin my career."
Representing AddRan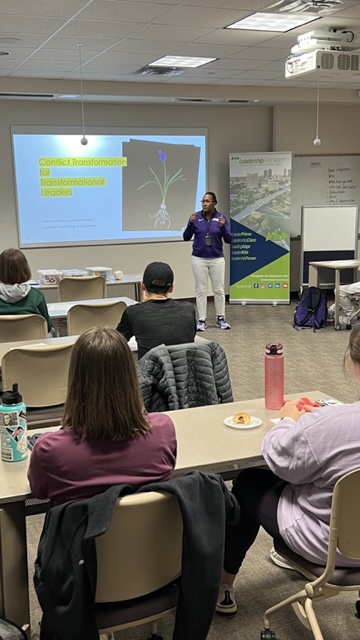 The AddRan Ambassadors are a diverse group of students who serve as the face of AddRan College of Liberal Arts, responsible for fostering a sense of community throughout the college. They also promote academic events and serve as student leaders for their peers. The organization has four teams: professional development, policy and advocacy, membership and recruitment and social media and advertising. Returning Ambassadors are given the opportunity to lead teams, and often volunteer their time in support of other organizations and events across campus.
"I already see the benefits of what their membership has provided them," said AddRan Ambassador program coordinator Melvin Harrison. "This has become a student-led group that requires very little direction. I see them graduating with leadership skills and becoming immediate assets to future employers."
Dr. Sonja Watson, Dean of AddRan College of Liberal Arts, is the founder of the AddRan Ambassador Program. She also participated in LeaderPrime 2021, a Leadership Fort Worth experience that prepares Fort Worth Leaders for effective community engagement.
"Due to my participation in the program, I decided a key component of AddRan Ambassadors should be leadership development, along with training for students to market their transferable skills gained from a liberal arts education," said Dean Watson. "Leadership Fort Worth's executive director Jennifer Trevino and program director Sara-Fairley Luna crafted a specialized half-day workshop for our ambassadors tailored to their needs."
Transforming Conflict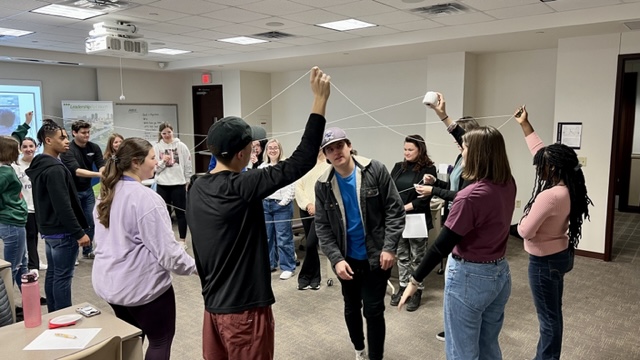 Prior to the Leadership Fort Worth workshop, the AddRan Ambassadors were asked to submit an example of conflict in their own lives. Whether it be through personal relationships, a group project, or a leadership position, this exercise allowed the students to consider their past experience with conflict in order to learn better techniques for dealing with conflict.
"The AddRan Ambassadors don't want to be good leaders only when everything is smooth and simple," said LeMire. "We also want to be prepared for any conflict that may come in the workplace and how to solve it. Since this program is designed to better prepare student leaders for life after college, Leadership Fort Worth's workshop seemed like the best way to start bridging that gap and set us up for success."
Fairley-Luna echoed the importance of leadership development programs to prepare college students for a professional setting.
"As a leadership development organization, we have the case studies, data and learned lessons to convey in order to expose students to trends, ideas, conflicts and solutions that could arise by the time they formally enter the workforce," said Fairley-Luna. "These skills learned in the leadership development workshop for collegiate students can be practiced for the duration of time they are enrolled in school, allowing them the opportunity to become more familiar with their leadership style, skill, triggers, etc."
Fairley-Luna added that leadership requires a depth of self-awareness and vulnerability, and the sooner you begin to practice these soft skills, the better off you may be in the workplace.
Collaborating for the Future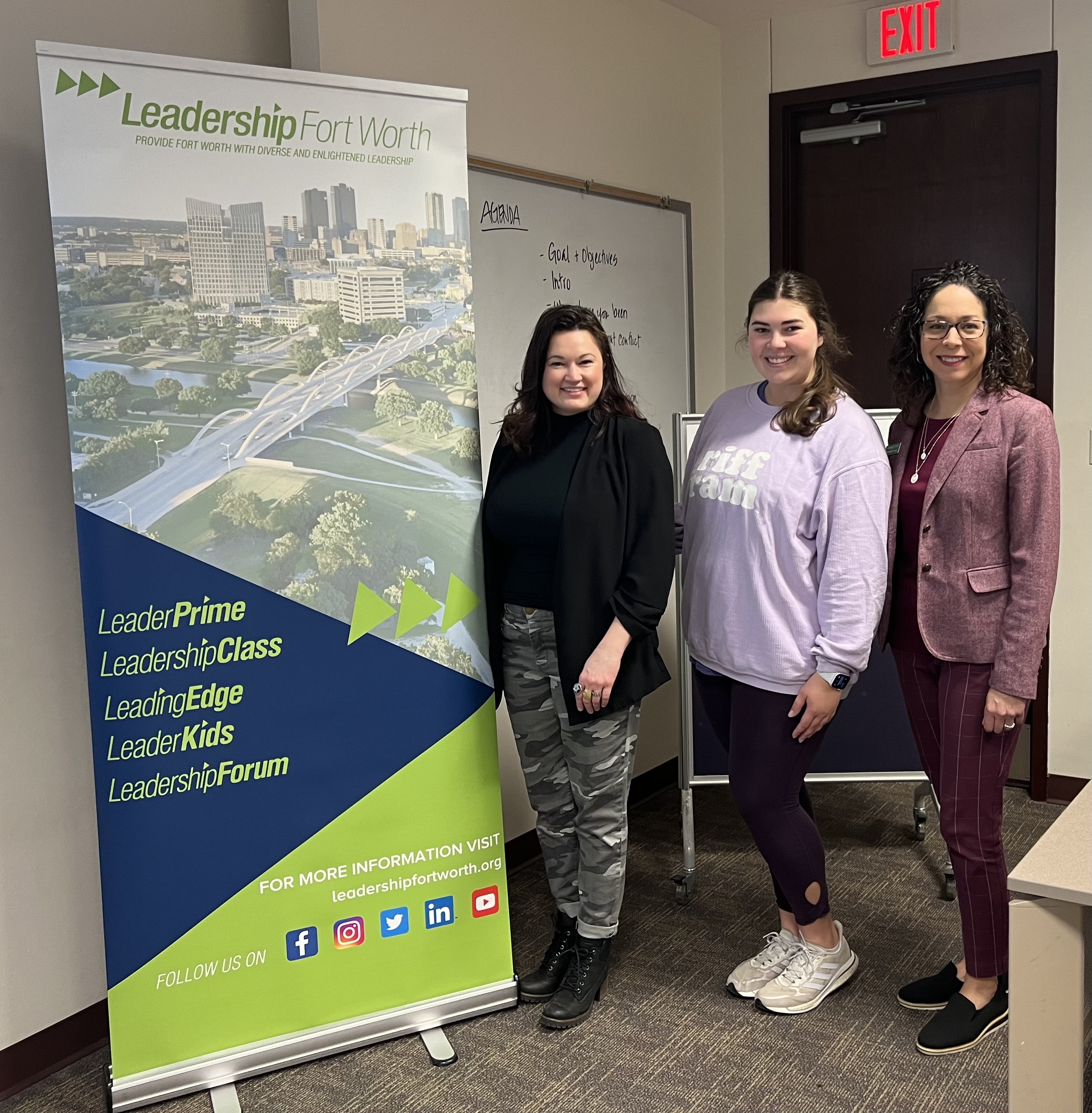 Collaborations between AddRan College of Liberal Arts and community organizations like Leadership Fort Worth allow students to make connections outside of the university and learn skills from those who practice them on a daily basis.
"First and foremost, TCU is an incredible partner and a founding member of Leadership Fort Worth," said Fairley-Luna. "Our higher education institutions are the future of the workforce. It is just as much our responsibility to work with those actively leading in a professional setting as it is with future leaders in the workforce."
Dean Watson noted how essential collaborations are because it exposes AddRan students to opportunities in Fort Worth.
"Participating in this program will give them a leg up during interviews for internships and job opportunities. Leadership Fort Worth is a large part of the Fort Worth community and has a longstanding connection to TCU. Collaborations like these are the right thing to do."