TCU is a host this year to GIS Day. The worldwide celebration is centered around discovering the world through geographic information systems, a scientific framework for gathering, analyzing and visualizing geographic data. The data is used in the public and private sector everywhere for everything from mapping sewer lines to analyzing populations to calculating your Amazon delivery route.
Involved in TCU's third annual GIS Day are Esri, spatial analytics leader and founder of GIS Day, and corporate partners Dunaway Associates and HEB. The panel also includes a cross-discipline representation from TCU, including Sean Crotty, associate professor of geography, as well as two other associate professors from the AddRan College of Liberal Arts Xiaolu Zhou and Kyle Walker; Assistant Professor Esayas Gebremichael from the College of Science and Engineering; and TCU Neeley School of Business' Laura Meade, professor of supply chain practice.
Crotty answered a few questions on how GIS is being used in AddRan.
How have you used GIS in your classroom?
GIS is a big part of my teaching. I use GIS to prepare maps highlighting particular issues that I'm covering in lecture or the class will be discussing. I also incorporate GIS lessons in all of my courses at TCU. That's obviously a requirement for technical classes like Intro GIS or Digital Cartography, but it isn't very common in topical courses like World Regional Geography, Economic Geography or Geography of Beer and Wine. In the topical courses, students complete four assignments using a web-based GIS platform: ArcGIS Online. Each assignment allows the students to really engage with a particular area of focus within the course and, simultaneously, get a little bit of experience making maps and conducting analysis within a GIS environment. These assignments are consistently mentioned in my course evaluations as among students favorite/most effective learning exercises, so I've continued to find ways to build GIS activities into each new course I lead.
How have you used GIS in your research? And do you have any current research underway using GIS?
All of my research uses GIS to explore the spatial/locational strategies of actors in the informal economy. In the past, I've used GIS to better understand the locational strategies of informal day laborers – mostly men who wait to be hired for short-term work in construction, general home improvement/handyman projects, etc. My main area of research currently uses GIS to explore the spatial patterns of illicit massage parlors in cities throughout the United States. There was a TCU Magazine story about some of my recent research looking at Illicit Massage Businesses. I'm continuing this area of research along several GIS-informed paths, all of which have an underlying goal of identifying and differentiating the patterns common to businesses that are clearly involved in human trafficking from businesses where the employees are choosing to be there.
Have you used GIS for any cross-discipline efforts at TCU?
Yes. Geography is an inherently interdisciplinary field, so it is sort of our collective comfort zone to collaborate across traditional topical and disciplinary boundaries. I've collaborated to varying degrees with colleagues from geography, political science, criminal justice, history, English/rhetoric and Economics.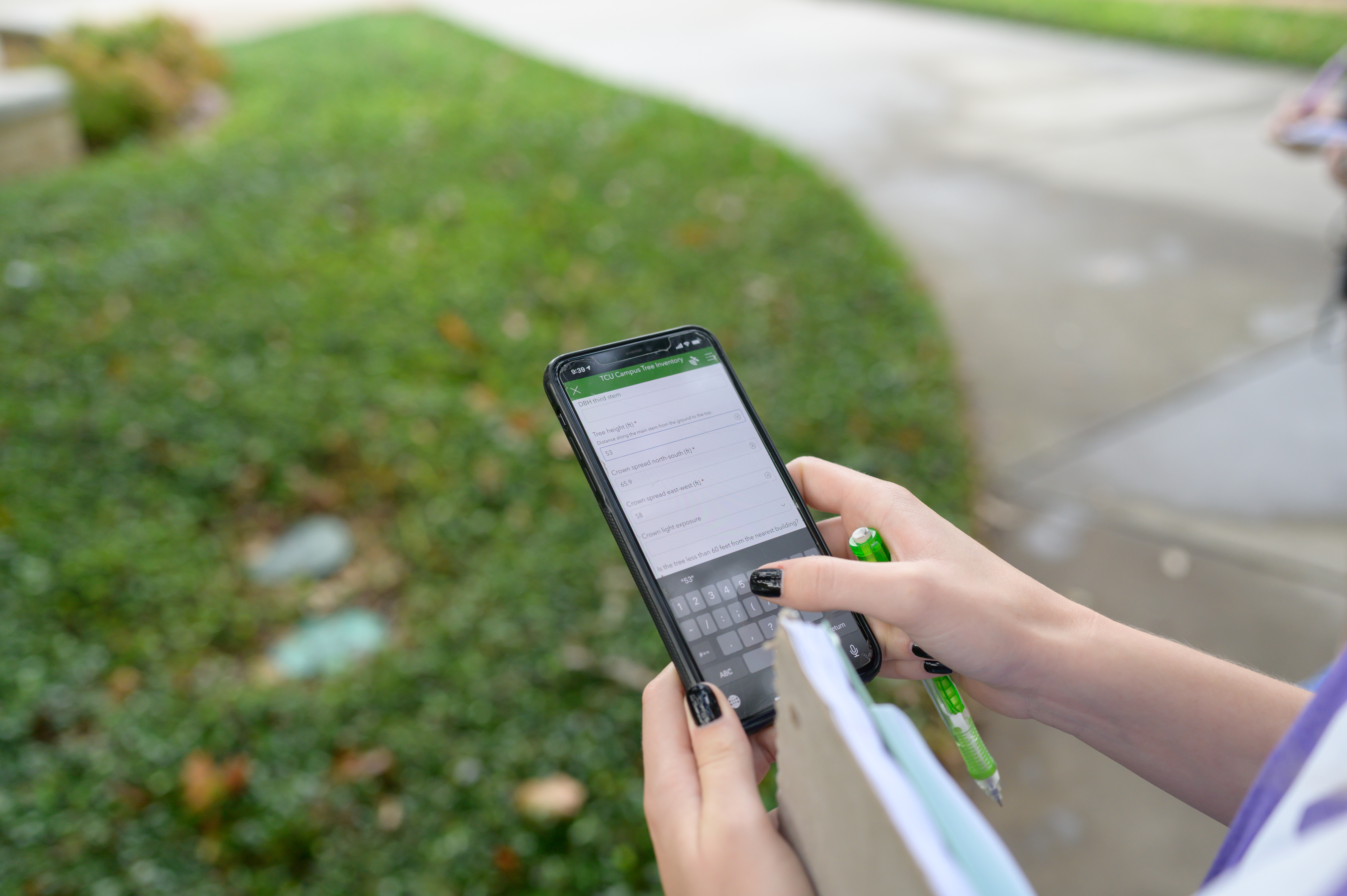 What is one of the most innovative/unique ways you've seen GIS used in AddRan education or research?
Associate Professor Ashley Coles adapted her physical geography lab exercises to work in an online GIS platform when COVID-19 forced everything to go remote. It was an incredibly creative and brilliant pedagogical adaptation, done under pretty horrible circumstances. As far as I know, no one else in the world is teaching that class in the same way. (Also, my GIS assignments for the Geography of Beer and Wine class are pretty great!)
Can you speak to how else GIS is being used in AddRan?
My colleagues are doing very interesting things with GIS. I don't want to speak for them, but a cursory account is that, within the geography department, Drs. Coles, Zhou and, Kyle Walker, associate professor, are all GIS users and teach with the technology. In geology, Gebremichael teaches GIS and some remote sensing courses. In economics, Associate Professor Zach Hawley uses GIS in some of his urban economics research. In criminal justice, Associate Professor Michael Bachmann teaches Crime Mapping.
What do you feel is next on the horizon for GIS at TCU?
At the moment, I'm most excited to see how much more GIS collaboration is possible on campus. There are GIS applications in areas of interest for every college at TCU. TCU Neeley's supply chain program is incorporating GIS exercises in one of their courses for the first time this fall. We already have faculty working with GIS and teaching some geographic perspectives in the College of Education. For example, Curby Alexander, associate professor of professional practice, is using GIS in his research, and I believe is also developing GIS curriculum for middle/high schools.
GIS has tremendous applicability for the Harris College of Nursing & Health Sciences. Anyone who looked at a map of COVID-19 cases in the last few years will understand that the spread of a particular virus is an inherently spatial issue. COVID-19 maps are a great example of the importance of maps for communicating information about the big challenges of the world today – which is of critical importance for students in the Bob Schieffer College of Communication. Many of those students are already receiving training in GIS and data analysis and visualization through the digital culture and data analytics minor.
Geology and environmental science departments have offered GIS courses longer than the geography department at TCU and continue to offer environmentally-focused GIS courses that complement the more human/social/economic focus of the GIS courses in geography. Even facilities and operations are increasing their utilization of GIS in a variety of ways that let them maintain and improve the TCU campus more efficiently.
The challenge, as I see it, is bringing these complementary areas of research and teaching together and making sure we have the faculty and infrastructure in place to teach GIS and spatial thinking to students across all the TCU colleges and disciplines.
Read more about how GIS is being used at TCU in the Neeley School of Business and the College of Science & Engineering.