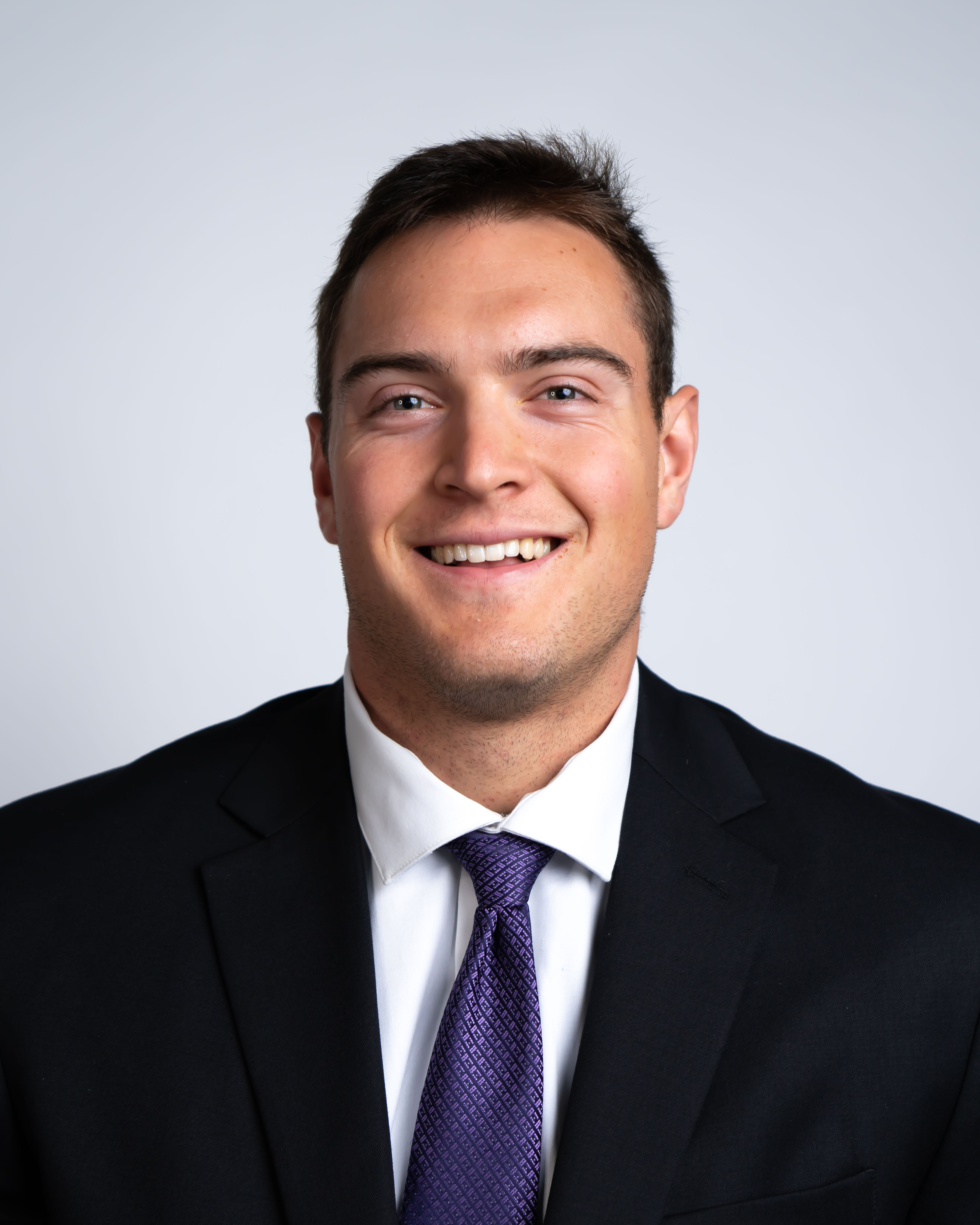 Dominic DiNunzio '22, an Army ROTC and TCU Football alum, added another accolade to his long list of awards from his time in Fort Worth. As part of the newest cohort of the National Football Foundation's Hampshire Honor Society, DiNunzio recognizes the impact of the people closest to him.
"I'm a product of the people that have invested in me," said DiNunzio. "I've had the opportunity to be surrounded by great people who motivate me. That journey with the same people in both ROTC and football is something that I'll never forget; we'll have that bond forever.
Hailing from Cleveland, Ohio, DiNunzio embarked on a remarkable journey that led him to TCU on an ROTC scholarship, where he excelled on the football field and in his academic pursuits. His accomplishments at TCU earned him recognition both within and outside the university, including TCU ROTC's Most Outstanding Cadet, the Pillar of Purple Award and two-time First-Team Academic All-Big 12 awards. DiNunzio graduated in December with a degree in finance and accounting and a minor in military science. He will travel to Georgia for training as a commissioned officer later this summer.
Preparing to Serve
DiNunzio's admiration for TCU sprouted from his early exposure to the university's football program during televised games. Fascinated by the distinctive purple school and its emblematic Horned Frog, he saw the ROTC scholarship as an opportunity to explore new horizons beyond his hometown's borders. "Why not try to go somewhere outside of Ohio?" DiNunzio said. "It's so cold up in the Midwest, so I thought 'why not go down south to Texas?'" said DiNunzio. "Once I visited TCU, I was sold immediately."
DiNunzio's affinity for military service is deep-rooted in his family. Inspired by his grandparents who served, DiNunzio felt a strong desire to contribute to something larger than himself.
"There's always the idea of serving something bigger than myself and trying to use my talents to help as many people as I can," he shared. This drive, coupled with his passion for learning and personal growth, solidified DiNunzio's decision to pursue military service through the Army ROTC program at TCU.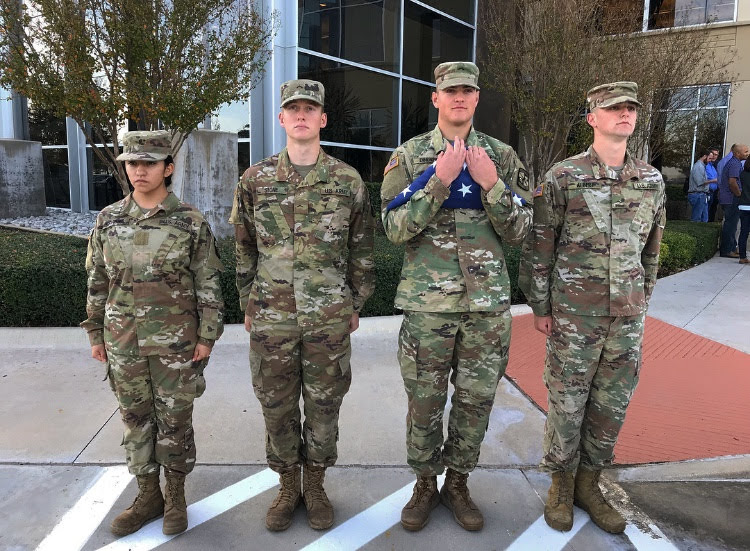 During his time at TCU, DiNunzio demonstrated exceptional time management skills and dedication to his academics, sports and ROTC commitments. Along with three days of physical training each week, DiNunzio learned military history, tactics and leadership in the classroom and during field training. Despite the demanding schedule, he managed to excel academically while making significant contributions to both the TCU football team and the ROTC program.
"I enjoyed the experience so much that I never really saw it as work," DiNunzio remarked. "I was raised to do my best in everything I took part in."
Adaptability and Leadership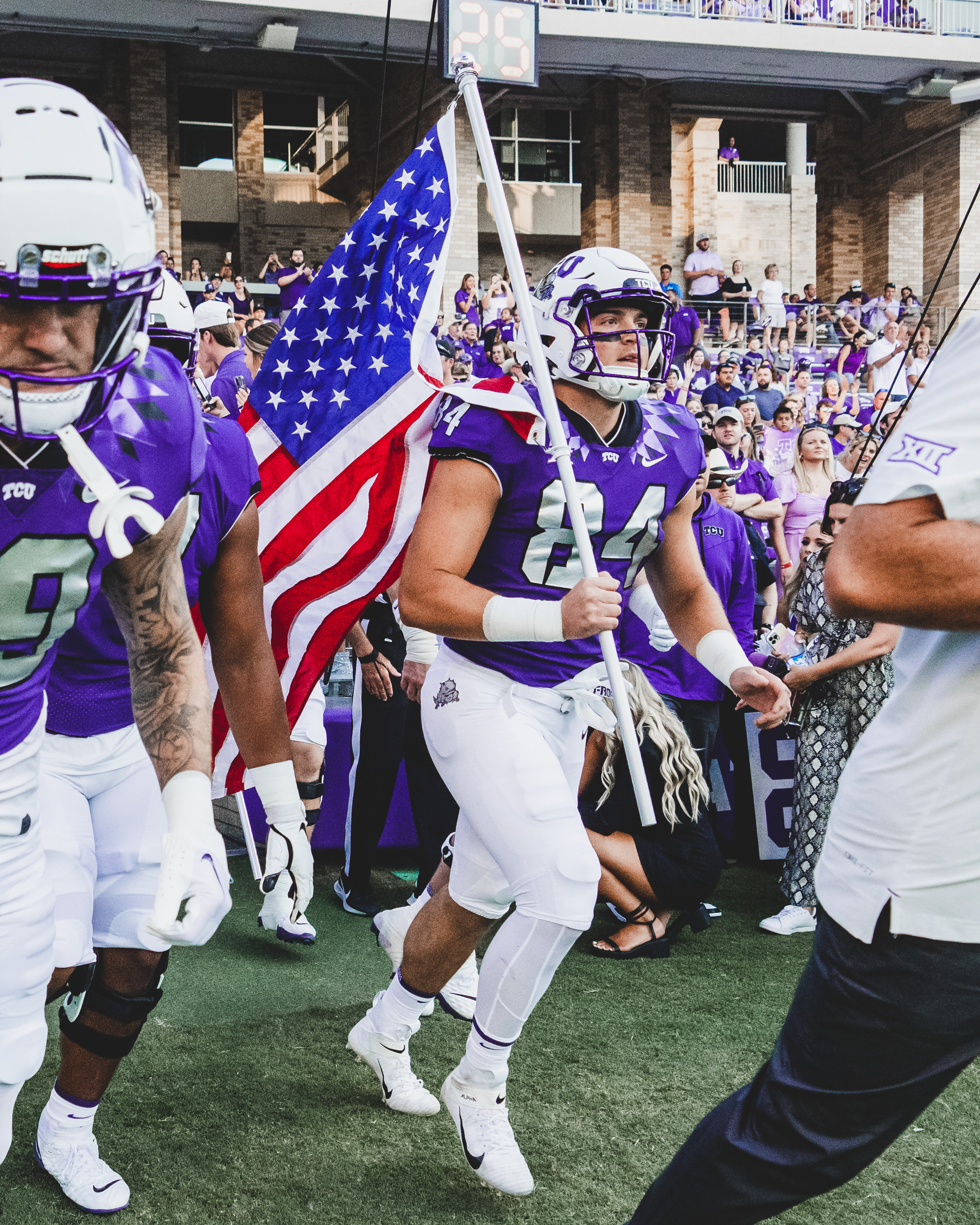 Growing up a basketball and rugby player, DiNunzio had no intention of playing collegiate-level football. It was not until he met some TCU Football alumni through the rugby club that he considered walking on; however, DiNunzio had never played football before.
"The physicality translates, but the nuances of the play calls and learning the playbook is different," explained DiNunzio. "Rugby and football have their similarities, but blocking is illegal in rugby, so it was a whole new set of rules I had to learn."
DiNunzio embraced the opportunity to learn a new sport. He started four games in 2021 and became a team captain. He totaled six receptions for 69 yards on the year with his first career touchdown coming in the 30-28 win over Baylor. He had a career-long 46-yard reception at Oklahoma State, and he played in the opening 10 games in 2022 before a season-ending injury late in the 17-10 win at Texas. He started at tight end in the 38-31 victory at Kansas and was a key member of TCU's special teams.
DiNunzio believes his experience with TCU Football will translate well to military service.
"When I'm leading a platoon, so much of how I teach things and my leadership style will come from people I learned from in athletics. It's kind of like having a locker room; it's a similar type of brotherhood. It prepared me to be the best person and best leader, and I can translate that pressure I felt in collegiate sports to high-pressure situations in the military that could mean life or death."
A New Era
Looking back on his time at TCU, DiNunzio remembers what it was like when he first arrived at TCU. He recalls not knowing how to salute or how to wear his ROTC uniform, and the pressure of working alongside more experienced players on the football team.
"Eventually, I became one of them," said DiNunzio. "It's funny to look back and wonder why I was so stressed and nervous. All the people and memories I have made here have made it worth it."
DiNunzio specifically recalled a day during fall training camp when he talked in front of the team about reinvigorating the football program. TCU would go on to become the first school in Texas to reach the College Football Playoff (CFP). With its Semifinal win over Michigan in the Fiesta Bowl, the Horned Frogs were the first Big 12 Conference team to play in the CFP National Championship.
"When we were going through fall camp, a senior talked in front of the team each day. When it was my turn, I told everyone that this team had been a brotherhood to me for five years, and with this new coaching staff, this senior class wanted to be the change for TCU Football. We wanted to look back at the 2022-23 season and recognize that this new era started with us. That was the legacy we wanted to leave."