Matthew Pitt Uses Artwork as Writing Inspiration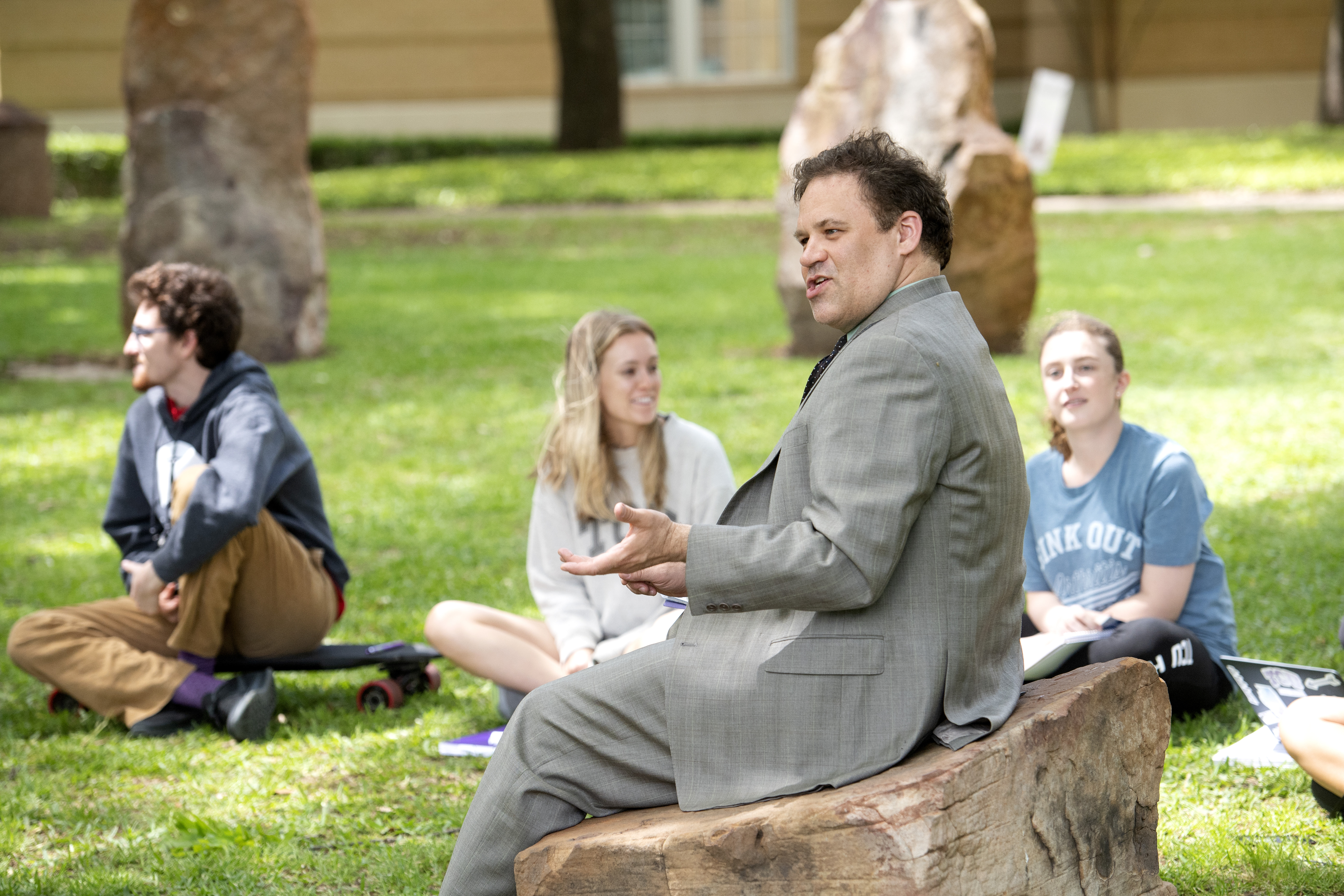 Matthew Pitt, MFA, is a frequent visitor to the Moudy Gallery on the northern side of TCU's campus. The associate professor of English and that department's director of undergraduate studies uses the art installations— which include works from TCU students and visiting artists—to inspire his students' creative writing.
"I'm fascinated by this idea of art that responds to other art, and I wanted to expose students to that type of creative inspiration process," Pitt said.
Pitt often takes his Fiction Workshop II class to the Moudy North galleries to take in the visual works of art as a way to inspire their written artwork. Students in the class are usually advanced creative writing students, having passed prerequisites. According to Pitt, by the time students are in his class, they will have achieved "a great rounding and are conversational in craft and be willing to take risks…We want them to be locked into their identities as artists."
In addition to inspiring his students' creative work, Pitt used the gallery for personal inspiration. Most recently, a visit to the galleries inspired him to write the short story "Four Corners," which delves into the thoughts of a young wife in an unnamed town as she waits for her war veteran husband to pick her up on a rainy night.
"Four Corners" is influenced by "Intersection, 1947" by the artist McKie Trotter, which recently hung in the Moudy North gallery. The painting depicts a small-town intersection on a rainy night in 1947, with the figure of a woman holding an umbrella in one corner.
Pitt usually does not typically paint historic scenes; most of his previous works are set in contemporary times. "The painting announced itself in a place and a time and a setting. To try to turn 1947 into 2017 would do it a disservice," the writing professor said.
"Details drive character and emotion and, ultimately, the theme and ambition of the story." - Matthew Pitt, MFA
The gender dynamics of 1947 America "fascinate" Pitt. With World War II ending, men returned from military service with visible and invisible wounds and took roles that women fulfilled during wartime. "Women were brought into the working world, the world of men, as a temporary sacrifice. But for many, it opened a new window where they realized they could have more," Pitt said.
The narrator of "Four Corners" speaks fondly of her job in a local mechanic's shop and the effect the war has had on her husband's mental health. "It was a time when there wasn't any couples counseling. There wasn't the recognition of post-traumatic stress disorder we have today. For the purposes of the story, the marriage and the personal journeys the protagonist and her husband are on are ultimately misaligned. There's where the friction happens," Pitt explained.
Pitt performed extensive researched about life and culture in 1947.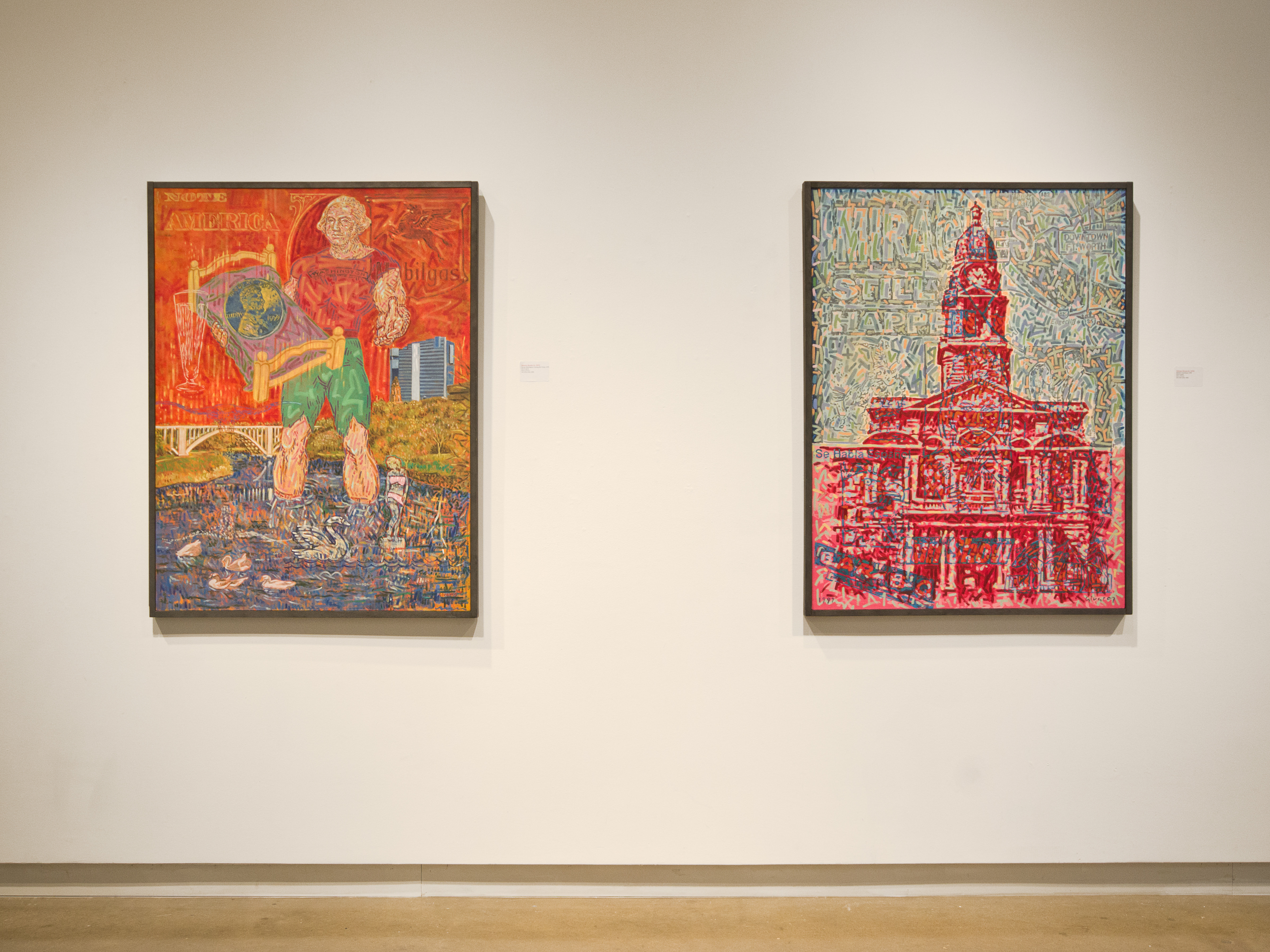 His short story's mentions of cars, jukeboxes and songs on the radio were all intentional, according to Pitt, and are period-accurate.
"Details drive character and emotion and, ultimately, the theme and ambition of the story," he said.
"Four Corners" was also Pitt's way of paying tribute to his grandfather, a World War II veteran of the Pacific Theater. However, he cautions that the characters in his short story are not based on his grandparents.
At a creative writing conference where he presented "Four Corners," Pitt spoke to colleagues and audience members about using art galleries to inspire work. "Being able to present and talk with colleagues, members of the public and students was something I missed," he said.