Trinity Miles '24 recounts her time as an AddRan student and a TCU Showgirl during the historic 2022 TCU Football season.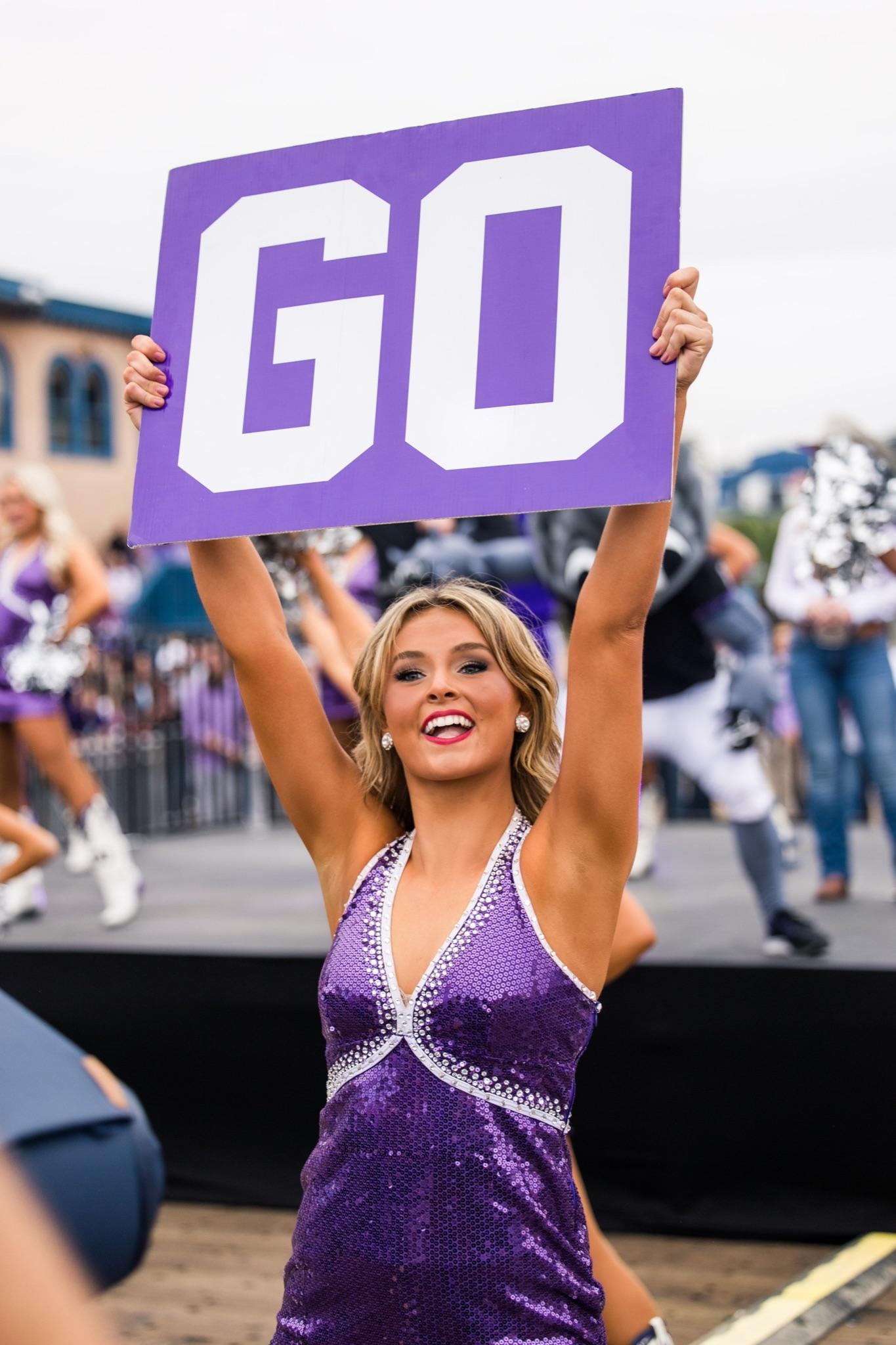 If you asked me at the beginning of the 2022 TCU Football season whether I thought the Horned Frogs would be competing in the 2023 National Football Championship, I – like so many others – would've thought you were crazy. But here we are, defying all the odds and proving everyone wrong.
This season has been a dream for everyone: the players; the fans; the students; but as a TCU Showgirl, this historic season has been magical in every sense of the word. Performing for tens of thousands of fans, seeing our football team put TCU on the national stage, and watching our students beam with pride after every field goal, touchdown and win has been the adventure of a lifetime.
From Isolation to Celebration
The day I received my acceptance letter to TCU, the world changed. March 13, 2020, is a day no one will ever forget, as it marked the beginning of one of the decade's most challenging and heartbreaking events. For the next two months, I spent nearly every day locked in my garage studying videos of the TCU Showgirls. I practiced and practiced, becoming familiar with their style and absorbing as much information as I could before submitting my audition video.
I am honored and humbled to have been dancing as a TCU Showgirl since I was a first-year. Nearly three years later, I am even more honored to have had the opportunity to perform at the Fiesta Bowl and the College Football National Championship.
The 2022-2023 TCU Showgirls are made up of 26 incredible young women who work unbelievably hard to support our university and the community of Fort Worth. We perform and cheer at all home football games, men's and women's basketball games and baseball games. On top of this, we make special appearances and participate in many campus and community events. It's quite a time commitment, but a privilege we take very seriously.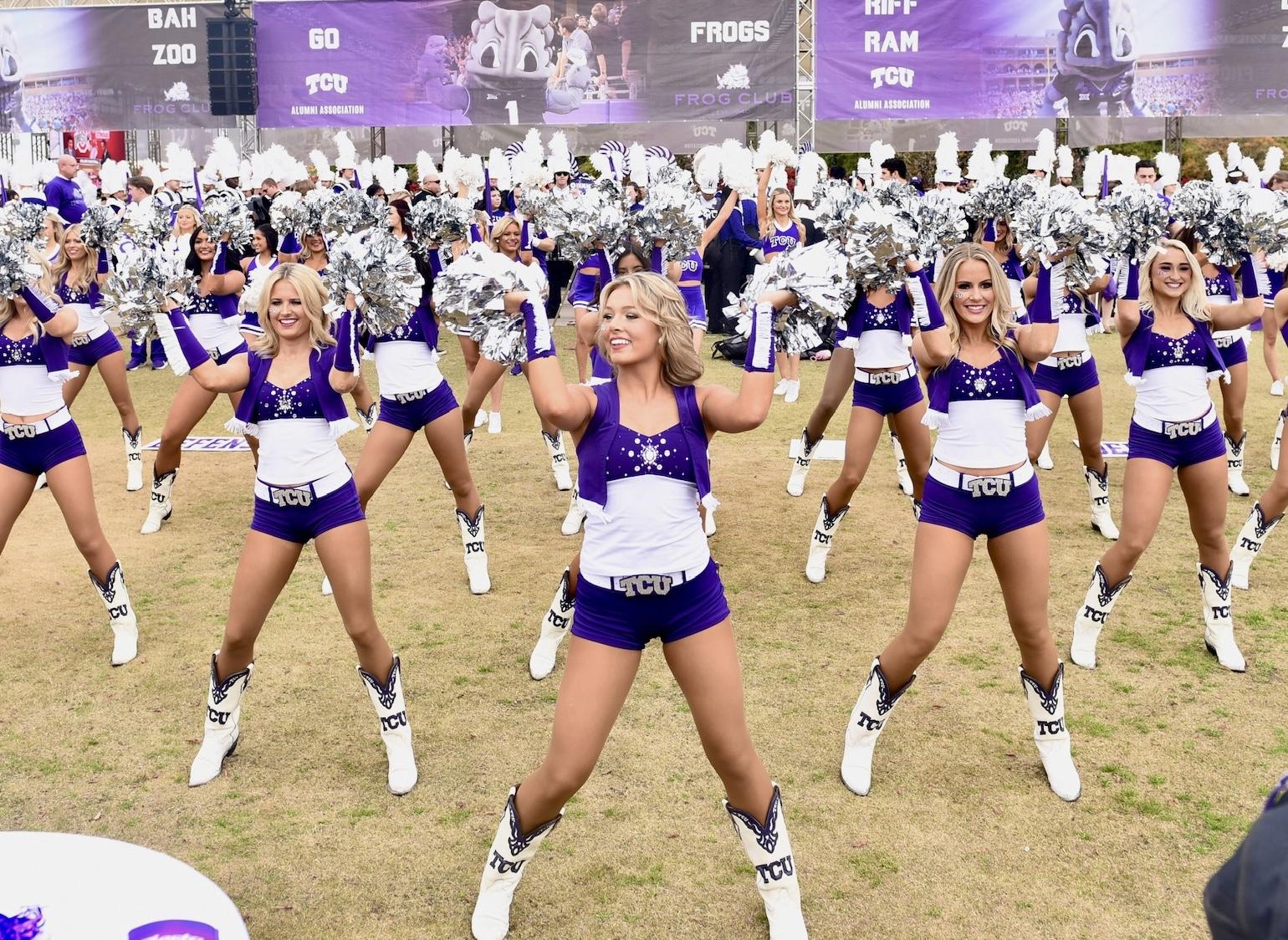 The girls on our team come from 10 different states, and together, we cover 17 different majors at TCU, including nursing, finance, biology and writing – my area of study.
Following a Liberal Arts Passion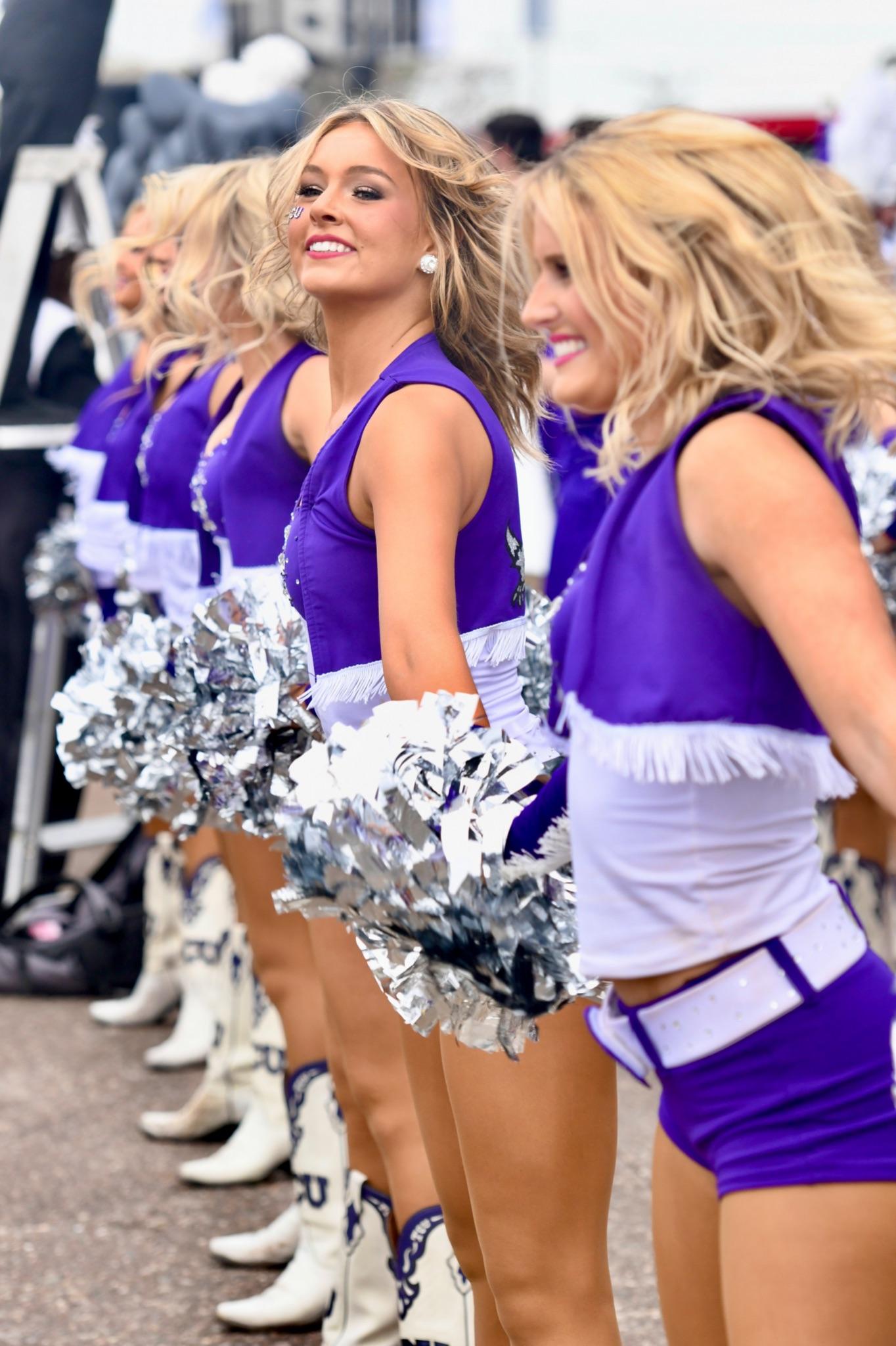 I transferred into AddRan after my first year when I discovered that my passion did not lie in the sciences. I came to TCU with the tired idea that a liberal arts degree was an education wasted and there was no job market for those who studied the humanities. After failing chemistry twice, I gave up on a future career in a lab.
My passion was found in language, literature, and most of all, writing. I began thinking beyond the scope of what society told me and realized that the skill of writing is one many overlook. I knew if I could develop and refine my prose, I could make myself an indispensable asset to any company in any field.
Writing is everywhere: the sides of your cereal box, the annoying Instagram ads that clog your feed and even the billboards across Dallas-Fort Worth announcing the Horned Frogs as Fiesta Bowl Champions.
Writing comes in various forms and serves different purposes, but as a student soon to enter an incredibly competitive job market, I see an opportunity to study the subject I love most while also setting myself apart in a niche way.
The knowledge I've gained as an AddRan student doesn't just pertain to punctuation and word choice. Over the past two years, I've learned countless lessons that have expanded my worldview and made me a more tolerant individual. I've learned to think for myself in an analytical yet empathetic way, which can only be taught through sharing and discussing the human experience.
Discussion, in general, is an invaluable part of the pedagogy at AddRan College. Listening to my peers share their thoughts in any way, whether it be about a piece of literature, through their personal works of prose or in response to my own writing, is illuminating and opens my eyes to perspectives I had not yet considered.
Spirit, Studies and Finding a Balance
Managing the responsibilities of being a full-time student and a TCU Showgirl is a daunting task. With practice and team workouts every day of the week – not to mention full-day commitments each Saturday – time is limited and extremely valuable. Most of us on the team also participate in other on-campus activities and have jobs or internships. Achieving balance is a feat in itself.
TCU Showgirls support and generate spirit for TCU athletics. During football season, we learn a new dance at the beginning of each week to perform the coming Saturday. At every home game, we debut a new halftime routine as well as an original "third quarter" routine choreographed by our amazing captains. On top of this, there is a 20 minute pregame show we must rehearse, parade sequences to practice, and other choreography to review. Fitting everything in between our class schedules gets overwhelming at times, but we work together to get the job done.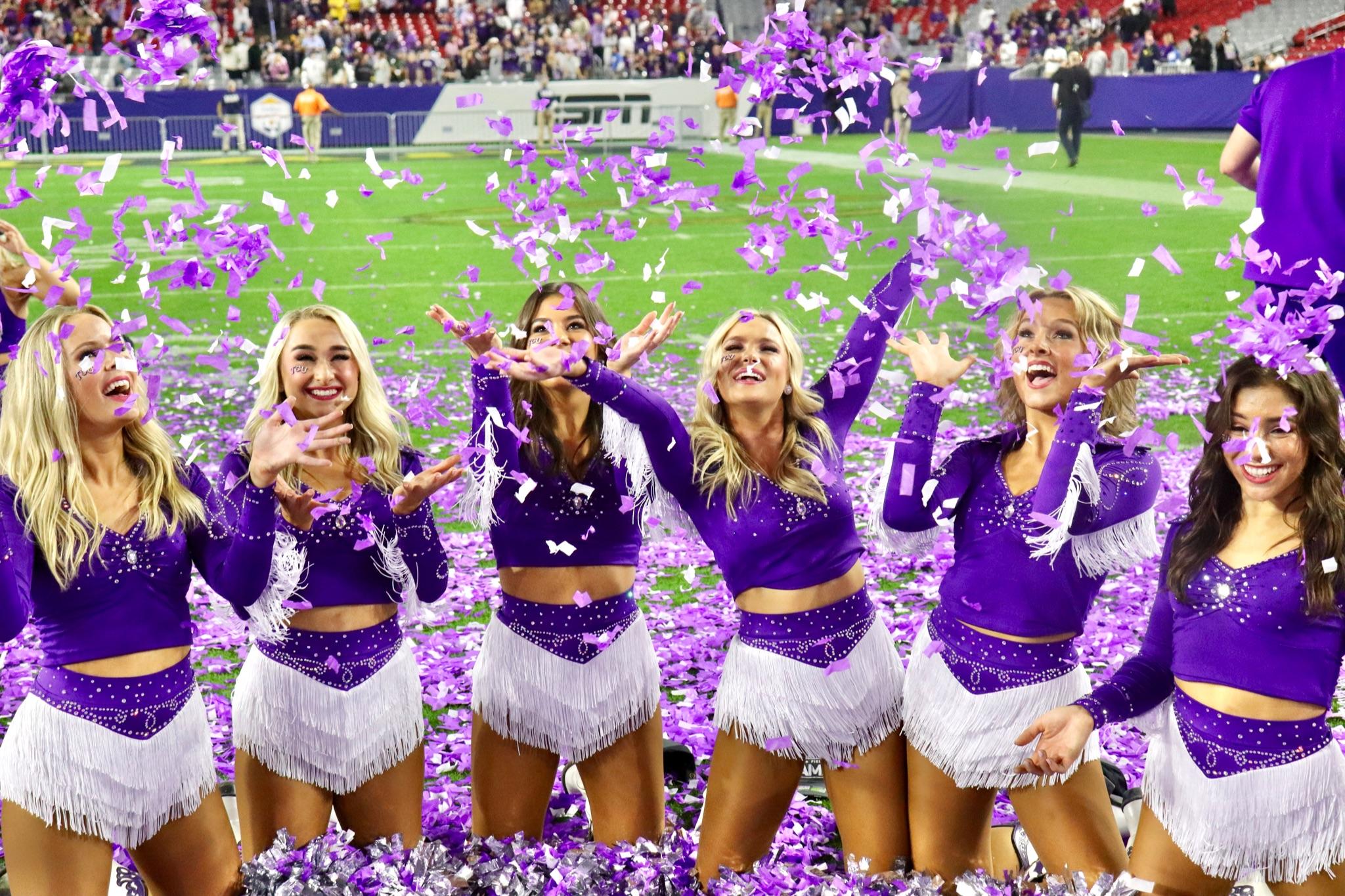 The magic, pride, and hope I have seen this year is unlike anything I've ever witnessed at TCU, and I am so grateful that I was able to watch it unfold from the sidelines. When we first stepped onto the field at the College Football Playoff National Championship, I remembered advice my old dance teacher had given me: "find the moment." With that maxim fresh in my mind, I took a breath, looked up at 72,628 people and began to create a memory I will hold dear for the rest of my life.