Main Content
If you missed Dr. Cantrell presenting the AddRan Distinguished Faculty Lecture, the recording is now available.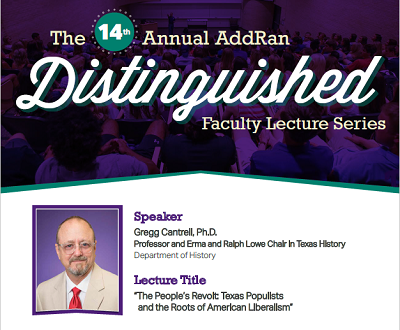 TCU's AddRan College of Liberal Arts presents
The 14th Annual AddRan Distinguished Faculty Lecture Series:
The People's Revolt: Texas Populists and the Roots of American Liberalism
By Gregg Cantrell, Ph.D., Professor and Erma and Ralph Lowe Chair in Texas History
In the public imagination, Texas has long been regarded as a bastion of conservatism. In recent times, that conservatism has morphed into enthusiastic support for Trumpian "populism." In this lecture, Gregg Cantrell explores the historical roots of Texas populism, discovering that not only were the original Lone Star Populists far from Trumpian, but they actually made a signal contribution to the development of American liberalism.
Recent Publications
"Understanding and Teaching Gender and Sexuality: Sources and Methods, in Understanding and Teaching the Modern Middle East, 271-382 "
"The People's Revolt: Texas Populists and the Roots of American Liberalism"
"The Girls Next Door: Bringing the Home Front to the Front Lines"
"The Last Populist: Populism, Modernity, and the Consequential Career of Henry Lewis Bentley (1847-1933) "