Main Content
Announcements
Join us for a virtual celebration of our 2021 seniors and scholarship on Wednesday, April 28. (Link forthcoming)
Faculty & Staff Invited to Interactive Webinar Series on Racial Equity in Higher Ed
Join fellow TCU faculty and staff for a 3-part interactive, live webinar series on racial equity in higher education. The series is hosted by the Equity Literacy Institute's Dr. Taharee Jackson. Each 90-minute Zoom session is open and free to all TCU faculty and staff. Space is limited to 300 participants and registration is required.
This event is sponsored by the TCU Religion Department. See below for registration for the first session. Registration for the second and third sessions will be posted in the coming days.
Session 1: A Transformative Vision for Racial Equity
Friday, October 9
4 – 5:30 p.m. CST
Register
In this session we will establish a deep and layered understanding of racism and the various ways, explicit and implicit, it operates in institutions of higher education. This will prepare participants to develop a clear vision for racial equity and justice and apply it to their specific campus roles.
Session 2: Teaching with Racial Equity
Friday, October 16
4 – 5:30 p.m. CST
Register
In this session we explore a variety of considerations for establishing a racially equitable learning environment. Participants will reflect on aspects of their teaching including curricula, class policies, pedagogy, and what it means to teach for racial justice.
Session 3: Making a More Racially Just University
Friday, October 23
4 – 5:30 p.m. CST
Register
In this session we will step outside the classroom and explore the roles people can play addressing racial equity concerns more broadly across campus. What does transforming an institution for racial justice look like? We will discuss common racial equity detours in higher education and basic equity principles that can guide sustainable racial justice change.
Dr. Johnny Miles, Lecturer in Religion, has published "A Tale of Two Purims: Food Identity Ideology and Purim Reception from the Late Persian to the Byzantine Christian Era," Biblical Interpretation 28:3 (Summer 2020).
"Riding the Wave: Contemplative Studies Goes Mainstream," by Dr. Andrew O. Fort, Professor of Religion [Emeritus], and Dr. Mark W. Dennis, Professor of Religion, just appeared in Issue 4 (Summer 2020) of The Athenaeum Review.
Additionally, their "Contemplative Studies Overview Video" is available here.

Dr. Scott Langston, Instructor of Religion, recently published an Op-Ed in a local newspaper about the horrific raid in 1841 that cleared native Indians out of Fort Worth.
Dr. Erik Estrada, Assistant Professor of Religion, recently secured a Louisville Institute First Book Grant for Scholars of Color.
The Harvard Institutes for Higher Education recently accepted Dr. Santiago Piñón, Associate Professor of Religion and the Director of Latinx Studies into the 2021 cohort of the Management and Development Program.

One of our former students, Teri Henderson ('14), remembers Beasley Hall as "a space of warmth and a beacon of hope for my future." Specifically, she recalls learning how to how to think and write about art with Dr. J. Sage Elwell.

These days she works for BmoreArt, an art organization in Baltimore MD, serving as Director of the Connect+Collect gallery and program.

Teri continues to write about art. Check out her recent, highly informative essay: "Curation in the Age of Coronavirus"

Brava! Teri's post COVID-19 plans involve bringing more attention to the Connect+Collect gallery and program. We wish her well!
For the latest campus messaging on the COVID-19 situation, please see TCU's website.
See this article for news of Dr. Ross's award-winning scholarship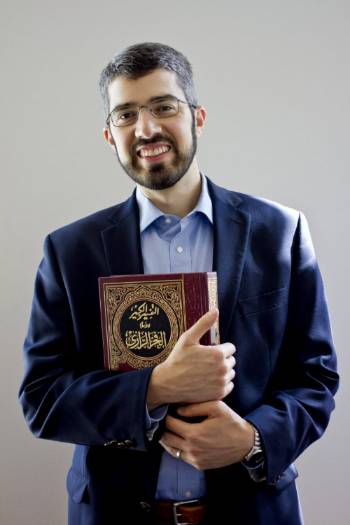 Does religion oppress women? Does it liberate them from oppression and inequality? In this podcast, TCU student Chloe Ricke explores both dimensions of the power and force of religion on women's everyday lives and agency in the context of Hindu religious traditions in India. Chloe draws on multiple perspectives, insider and outsider, to represent Hindu women's religious lives and experiences. She even interviews Dr Antoinette DeNapoli, a specialist in Hindu religions and gender in the TCU Religion department. Click here to listen to the full podcast.
Dr. Antoinette DeNapoli has been invited by the coordinators of the 3rd Conference on Buddhist Ethics to serve as a respondent outside of the Buddhist tradition to address panelists' papers on Gender and Sexual Misconduct in religion.
Founded in 1976, Theta Alpha Kappa is the only national honor society dedicated to recognizing academic excellence in baccalaureate and post-baccalaureate students and scholars in the fields of Religious Studies and Theology. Today, TCU's Religion Department is home to one of more than two hundred local chapters nationwide.
Dr. C. David Grant, professor of religion, is seen here receiving the Kathleen Connolly-Weinhart Leadership Award, an auspicious tribute to his many years of exemplary commitment to the Society.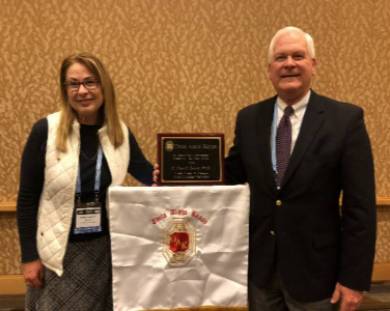 Dr. Grant was presented with the Award at the Annual Meeting of the American Academy of Religion/Society of Biblical Literature, San Diego, November 24. Congratulations to Dr. Grant -- colleague and friend!
Former religion major Brennan Steed, TCU '19 and Georgetown '20, was presented (in absentia) with the 2019 Chapter Representative's Award. Brava!