Main Content
Announcements
Podcasting Religion and Gender with Ms. Chloe Ricke and Dr. DeNapoli
Does religion oppress women? Does it liberate them from oppression and inequality? In this podcast, TCU student Chloe Ricke explores both dimensions of the power and force of religion on women's everyday lives and agency in the context of Hindu religious traditions in India. Chloe draws on multiple perspectives, insider and outsider, to represent Hindu women's religious lives and experiences. She even interviews Dr Antoinette DeNapoli, a specialist in Hindu religions and gender in the TCU Religion department. Click here to listen to the full podcast.
Congratulations to Dr. DeNapoli!
Dr. Antoinette DeNapoli has been invited by the coordinators of the 3rd Conference on Buddhist Ethics to serve as a respondent outside of the Buddhist tradition to address panelists' papers on Gender and Sexual Misconduct in religion.
Dr. David Grant Receives Theta Alpha Kappa Leadership Award
Founded in 1976, Theta Alpha Kappa is the only national honor society dedicated to recognizing academic excellence in baccalaureate and post-baccalaureate students and scholars in the fields of Religious Studies and Theology. Today, TCU's Religion Department is home to one of more than two hundred local chapters nationwide.
Dr. C. David Grant, professor of religion, is seen here receiving the Kathleen Connolly-Weinhart Leadership Award, an auspicious tribute to his many years of exemplary commitment to the Society.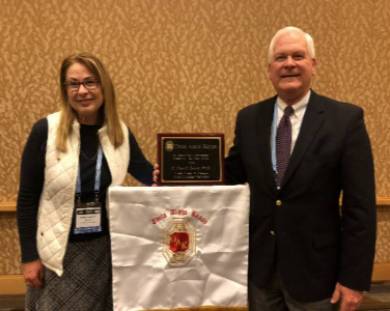 Dr. Grant was presented with the Award at the Annual Meeting of the American Academy of Religion/Society of Biblical Literature, San Diego, November 24. Congratulations to Dr. Grant -- colleague and friend!
Former religion major Brennan Steed, TCU '19 and Georgetown '20, was presented (in absentia) with the 2019 Chapter Representative's Award. Brava!