Main Content
Leadership, Executive & Administrative Development

Designed for professionals
LEAD is the first professional law enforcement development program of its kind in our area offering 12 graduate-level college credit hours. All classes are held locally on the TCU campus or at a nearby law enforcement facility for one full academic year (2 semesters, fall and spring). LEAD was designed to be convenient and practical for working law enforcement professionals.
This highly selective program is specifically tailored for current leaders with proven abilities and emerging leaders who have demonstrated remarkable potential.
The seminar-style classes take place two evenings per week for 3 hours per class. These courses are customized to cover timely and relevant police supervision issues so that lessons can be readily applied to real-world situations.
Classes are taught by tenured law enforcement professionals and TCU professors so both theory and practical applications are learned.
Why LEAD?
12 graduate hours and acceptance to the Criminology & Criminal Justice master's program
Enhanced leadership capabilities
Exposure to high-profile professionals and experts in law enforcement and other relevant areas, ranging from district attorneys to medical doctors
The chance to develop improved policies and operational strategies
Opportunities to enhance relationships with the community
Critically important networks and lifelong connections
A chance to determine best practices in policing rather than just following practices in place
Immersive agency field trip opportunities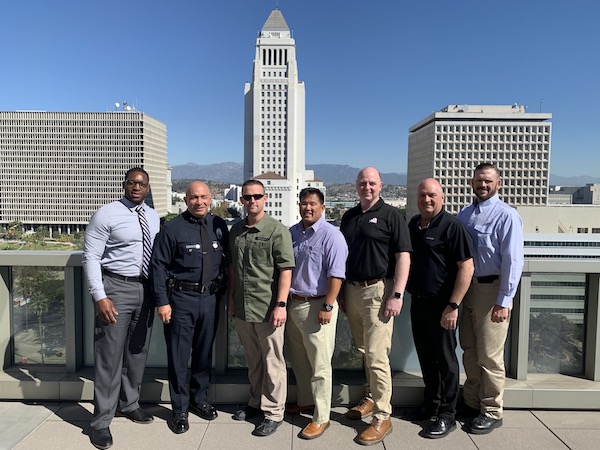 LEAD Class 2 visits Los Angeles hosted by LAPD and Asst. Chief Bob Arcos
Requirements
This flagship program is highly selective and features class sizes of fewer than 10. Candidates must possess outstanding character and reputation, demonstrating integrity and high moral conduct.
Candidates must have a serious commitment to the law enforcement and security communities as a public servant. They should possess natural leadership qualities and enjoy the confidence and respect of fellow officers.
Candidates must hold a four-year degree. They should hold a supervisor position or have leadership aspirations and potential, and they must secure a strong supervisor recommendation.
What are you waiting for? It's time for you to LEAD.
---
Contact Us
Kendra Bowen, Program Director
k.bowen@tcu.edu
817-257-5846