Main Content
Alumni Features
Alumni Student Spotlight
Nick Barnette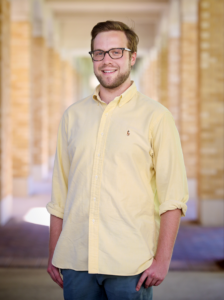 After graduating from TCU in 2017 with degrees in English and Film-Television-and-Digital Media, Nick Barnette set off for a year in Greece with the Fulbright Fellowship. Only 1,900 U.S. students receive the Fellowship each year, making it one of the country's most prestigious Fellowships. Nick spent his time in Greece teaching ESL at an elementary school in Athens. Nick credits connections within the English Department for inspiring him to apply and step outside his comfort zone. A fellow TCU and Department of English alum who had spent a year in India helped guide Nick through the application process and offered consistent encouragement and advice.
In addition to alum, Nick also had the support of the English faculty. Professor Alex Lemon praised Nick, stating: "Not only was Nick an exceptional student, he is a stunning young writer. Fierce and undeniably gorgeous—Nick's poems and creative nonfiction are wonderfully imaginative and smartly crafted. And he interrogates issues vital to all of us: what it means to love, to believe, to be alive in a complex world. His work shatters me."
Today, Nick is putting both degrees to work as a video editor at the ABC affiliate station in Birmingham, Alabama.
For more information about the Fulbright and how to apply, click here.